Learning English as a second language might be challenging but "Where there's a will, there's a way".
"How long does it take to improve my English?" is the most asked question from the majority of leaners. It's not about "time", "consistency" is the key. Instead of asking "how long", let's take a look at these 5 simple but practical tips to actually get better with your English.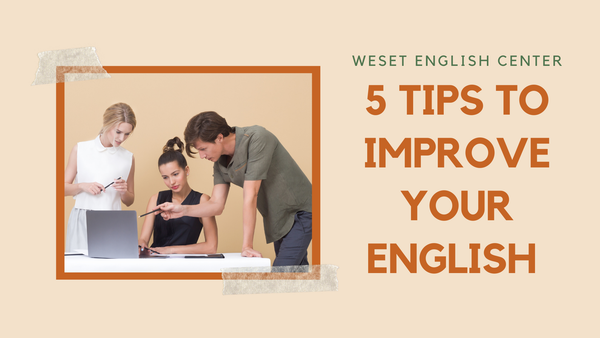 1. Change language setting on your electronic device
Let's set the language on your phone, your computer or your mp3 (if you still have them) etc., to English. This will help you become familiar with English since you have to read and be able to understand English to use all the functions on your phone.
2. Watch movies with English subtitles
Watching movies with English subtitles will help you get used to the voice of people speaking English. This will help you practice your intonation and pronunciation too!
3. Listen to English songs
Listening to music is the fastest way to learn vocabulary! Because when you like the song, you would want to know about its meaning too, right?
4. Read books in English
Don't be afraid of the thick, hard, full-of-new-words books! Some books are designed for English learners to read, and you can always find the ones that fit your level and interest.
5. Go to English speaking clubs
There is no better way to practice your English than to actually use it! Speaking Clubs are various these days and you can join in to practice your Listening and Speaking skills.
So let's get started right today, I highly recommend the documentary called "Don't f*ck with cats", don't mind the name – just watch it first and you will truly realize that "nothing is impossible". Sooner or later, with these 5 tips above, English won't be a big problem, not any more.
_Tuyen Sang_